In just 2 years White Night has established itself as one of the major event draw cards for nightlife seekers! With heaps to do and see, along with plenty of Bars and Pubs putting on their own entertainment White Night is an essential experience for any true Melburnian! We've put together a list of some of the best bars to visit on this epic night!
Our Top Picks
[divider] [one_sixth]
[/one_sixth] [five_sixth_last]
[Little_Red_Pocket]
[one_third]
[/one_third] [two_third_last]
[/two_third_last]
The Royal Dragon Vodka Party
If you've never been to this sensational little cocktail bar then this Saturday is the night to do it, as they're hosting The Royal Dragon Vodka Party, recognising Chinese New Year, celebrating with one of the most exclusive vodkas in the world! The venue is bound to be a hot spot with the promise of: – Drink specials 6pm-3am – Gourmet tapas menu – Special guest DJ's – V.I.P reserved tables and packages available DJ's playing RNB, Latin & House Main Event / Angel Jay / Marz / Dirtee Funk / Sonic vibes / Chris Ooi / Meex / C-Ram 18+ ONLY photo ID required upon entry. Smart dress code applies.
Contact:
03 9078 2051
info@littleredpocket.com.au
[/five_sixth_last] [divider] [one_sixth]
[/one_sixth] [five_sixth_last]
[Emerald_Peacock]
Rooftop Chillout
Getting into a chic cocktail bar is no easy feat when you're with a big group, that is of course unless that venue happens to be The Emerald Peacock! If you're looking for a place to head and enjoy a couple of drinks under the night sky, then check out this trusted Melbourne establishment! Centrally located to everything and anything, there's no better place to sit down, relax, and share one of their delicious cocktail jugs with friends whilst taking in the 360 degree views of the cityscape surrounding you! Always happening with a upbeat crowd, this is once place you can count to be busy!
Contact:
03 9654 8680
function@theemeraldpeacock.com
[/five_sixth_last] [divider] [one_sixth]
[/one_sixth] [five_sixth_last]
[Lustre_Bar]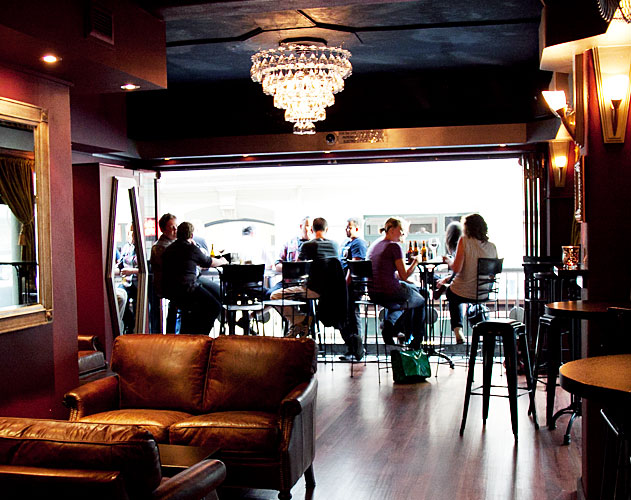 Live Music, Cocktails & Dessert
If you're looking for somewhere to escape the crowds but not be out of the action then head to Lustre Bar in flinders lane! Tucked upstairs, Lustre Bar is Melbourne's first Cocktail & Dessert Bar that has a great little balcony that looks over flinders lane. Carefully crafted cocktails and locally made desserts are the draw card here and the atmosphere is intimate and laid-back! For White Night this year there's free live music from 7pm through til 3am featuring some of Melbourne's freshest jazz and acoustic performers including: Simon Carter Duo; Peter Hughes; Sam Cox Trio and more
Contact:
03 9671 3371
Bar@lustrebar.com.au
[/five_sixth_last] [divider] [one_sixth]
[/one_sixth] [five_sixth_last]
[The_Red_Hummingbird]
Escape The Masses
If you're looking somewhere to head for a quieter drink, then The Red Humming Bird is the perfect option! Barely a 3 minute walk from the main action, this is one of Melbourne's best kept secrets (unless of course you've discovered it)! The bar has a chilled out and relaxed atmosphere with a lounge that starts indoors and extends out to an awesome rooftop terrace where you can take in the night atmosphere! If you've not made a trip here before then get your explorer boots on and head to this little favourite of ours
Contact:
03 9654 2266
info@theredhummingbird.com
[/five_sixth_last] [divider] [one_sixth]
[/one_sixth] [five_sixth_last]
[Nieuw_Amsterdam]
[one_third]
[/one_third] [two_third_last]
[/two_third_last]
Art Projections
Get involved with the wow of White Night and see the work of international digital sculptor, Kit Webster across the Nieuw Amsterdamn building (from 9.30pm). If you're feeling peckish, the chefs here are serving up delicious treats all day and night from their brand new menu! And if you're feeling like a boogie, then head downstairs to the UV party with body paint where 4 awesome DJs will get you dancing under the black lights and a team of cocktail masters to mix your fave drinks!
Contact:
03 9602 2111
info@nieuwamsterdam.com.au
[/five_sixth_last] [divider]
Other Bars Worth Checking Out!
The Deck (Waterside)
last year was booming and this year will be no exception with regualr guest DJ's setting a cracking vibe for a good night!
Loop Bar's
stunning rooftop will provide pretty amazing views of the lit-up city and downstairs they're putting on their first Prognosis of 2015 featuring an awesome rotation of DJ's (FREE ENTRY + $5 Tecate cans running all night!
Blue Diamond Club
is another place where you'll get some great view of the city skyline and it'll be the perfect place to escape the hype 15 floors below! In the basement of a Hardware Lane building
Khokolat Bar
will be having they're regular Rewind Saturday which is one of the best club nights to hit up in the city
State Of Grace
on Collins street is always a great spot to grab a cocktail, and if your friends haven't experienced the hidden Fall From Grace through the bookshelf, impress them with a journey here!
Beer Deluxe
in Fed Square is open ALL NIGHT! Yep thats right…you'll be able to quench your thirst with the best selection of craft beers in Melbourne right until the sun comes up! Gotta Love Beer! Love a Silent Disco? Well
Campari House
has a free Pop-Up silent disco on from 7PM till Midnight!